Please contact Carol for more information at 242-8746!
We offer our members a wide variety of court activities to enhance their fitness programs. Not only will you get a great workout, but the fun factor is HUGE!
WINTER SCHEDULE
Challenge Court Play:

Racquetball:
Advanced: Mondays 4-7 pm, and Thursdays 5-7 pm
Intermediate: Wednesdays 7-9 pm
Beginner: Thursday 7-8 pm

Squash: Thursday 4-7 pm

Wallyball:
Advanced: Tuesday 7-9 pm
Recreational: Thursday 8-9 pm
RACQUETBALL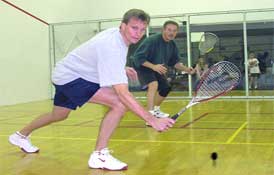 Any age, any size, any skill level - you can get a great workout in your 60 minutes of play or practice. We offer the following programs and services for our players: introductory lessons, court only membership options, private lessons, challenge ladder play, challenge court play, doubles round robins, tournaments, incentive board, pro shop equipment, stringing services, pro clinics, special skill clinics, and more!
JUNIOR RACQUETBALL
Our program is the best on the Western Slope! Our players range in age from 5 to 16 and meet weekly for instruction and play. Sessions are 6 weeks long and run consecutively throughout the season. We encourage our young players to enter competitive play at the local, state, regional, and national levels of competition. Junior only tournaments are hosted at Crossroads. This program will continue to be held through the summer as dictated by the interest of the players. Watch for updates on days and times instruction is available.
SQUASH
Move the back wall up, add some lines, change the size and shape of the racquet and eliminate the kill shot - you are now playing squash! The only squash court in our area has a glass back wall and our program has a strong core of local players. Squash challenge court play, lessons, and pyramid challenge play are some of the ways to get involved. Strategy and endurance are keys to success in squash competition.
WALLYBALL
Hang a volleyball net across a racquetball court, change the texture and weight of the ball, and start playing volleyball using the walls and angles - now you're playing Wallyball! Three to four players comprise a team, with the competition fast and furious. League play is available for men, women, and co-ed teams. If you like volleyball, this is another great option for a new activity. League play will resume this fall.