Success Stories & Testimonials
BECKY JONES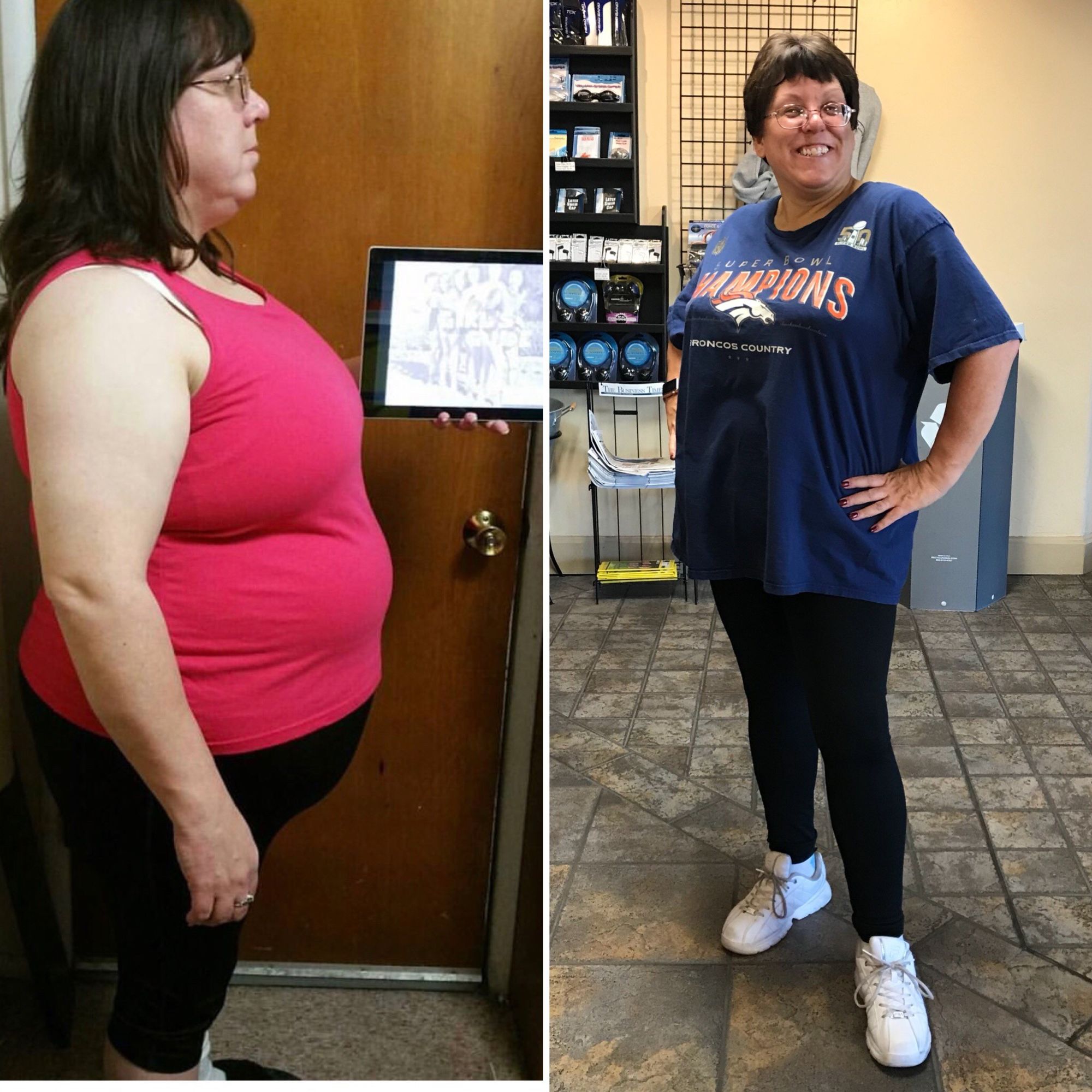 Hello,
Amy Bergen at the front desk encouraged me to send this photo to you of the progress I've made in the last two years thanks in part to Crossroads. The before picture was taken 2 months before I joined in 2016. There is 60lbs weight loss between it and the "after" picture. I've lost 50lbs this year, since June actually. I owe a LOT to my trainer Rose at Crossroads. She kicked my behind into gear! Becky Jones
Rachel Saunders


Hi! My Name is Rachel Saunders and I am one of the fitness instructors here at Crossroads. I can't even tell you how momentous it is to be able to say that one line! I never would have guessed this would be where my life's path would lead but I am loving every second of it! You see my struggle with weight and debilitating shyness has been a lifelong battle. I had never been thin and I had horrid social anxiety. At the point in my life when we moved to Grand Junction I had achieved one big goal in my life. To become a mother. But achieving that goal was much harder than expected. I suffered some devastating losses. I was diagnosed with an incompetent cervix. When I became pregnant with my son William I was placed on weekly shots. I had to have surgery at 14 weeks and was placed on bed rest for the remainder of the pregnancy there after. Over 6 months of bed rest had taken a hefty toll on my already sorely out of shape body. I don't actually know what my end weight was. After the scale tipped 200lbs I simply stopped getting on a scale. When we first arrived in Grand Junction I had not weighed myself on over a year. My son was now 3 and I had neglected my health for far too long! I was at my heaviest I had ever been and I was facing isolation. My husband had gotten a job in the oil filed, which I knew meant my being alone half of the year. With every friend or family member I had ever know over 5 hours away in Salt Lake City Utah I set my mind to do two things. 1, walk every day and regain some resemblance of health 2. Brake out of my shell and make some friends. So, I did. I started walking my dog every day. The walking lead to a tiny bit of weight loss which fueled a fire. I joined a moms group and found some amazing friends one who encouraged me to join a gym. The selling point back then was an hour of me time, without having to worry about my son, just for an hour. So, I tried it. I did the only thing I thought I could maybe do at a gym, dance class. I had always loved dance, so I started with Zumba classes here at crossroads. The Zumba lead to a little more weight loss which fueled more fire. Before I knew it I was reading every fitness article and website I could find. I was researching and analyzing every bit of data available, as has always been my nature but I was now doing so in a feverishness pace! I found some websites to help me with my nutrition and found the best mix of cardio and strength for me. The best thing I found though was a lot of hidden confidence! I was coming out of my shell little bit by little bit. I was making friends and I was being encouraged by some of the most amazing instructors! Friends and instructors alike were putting a bug in my ear that I had a knack for this fitness thing. that I had natural athletic ability (who knew) and I should teach. I managed to lose 80lbs but what I gained was my life! The only thing left to do was to show others how to do it too. With the help of my friends and my amazing gym family here at Crossroads I can now very proudly say I am a healthy fit and even outgoing when the time calls for it ;-) fitness instructor, soon to be personal trainer. I can't imagine where my life would be had I not come to crossroads and I don't want to even try.
My name is Kevin Ketchum and I'm one of those people that just like everyone else made that same "New Year's Resolution" everyone else makes. "This year, I'm going to lose weight. This year is the year I get healthier". My wife and I would start exercising and eating better, but after a few weeks I lost interest and went back to my unhealthy eating and heavy drinking. Well after years of making that same statement 2016 was finally "that year"
I was never very active, never played sports in school, and for the past couple of years always said "this is as heavy as I'm going to get". Well by the end of 2015 at age 40 I was 6'1 ,278 pounds, and a 42" waist, I had finally had enough. My wife knew I was getting frustrated but also knew I needed "something or someone" I could relate to. She came home one day and told me about a trainer at Crossroads where she works and she just wanted me to meet him. I hesitated because I always thought "I don't need a trainer, I'm not paying someone to yell at me and make me exercise, and push me so hard that I would never go back". Then I thought what could it hurt?
I went to meet with this trainer and honestly, I went to the meeting just so I could say to my wife that I went. That is the day that completely changed my life and lifestyle for the better.
That is the day I met Adam Cisneros.
We talked for around 30 minutes, he asked me what my goals were and what was I wanting to do. I told him that I would like to lose 50 pounds in a year, he said "I can help you with that". At this point I'm still in the back of my mind thinking the same thing, I don't need a trainer, if I want to get healthier I can do it on my own. Adam then told me a little about his transformation and how he was similar in weight and had lost over 100 pounds in a year. He then said something to me that I will never forget, "just give me a chance to earn your trust, give me 30 days."
6 months later I am happy to say that I am still training with Adam and have lost 60 pounds, over 15% body fat, and have put on muscle, and seeing muscle definition that I have never seen in my life. I feel healthier and I have more energy than I have had in years. Adam is the first and only trainer I have ever worked with but he has the type of personality and work ethic that in my mind would be the ideal trainer. He makes working out fun. He is very motivational and he makes you feel like he
is there for you.
He has a ton of great knowledge and is really in tune with what works for "you". He doesn't have some cookie cutter workout that he looked up on his phone, in fact he has been keeping a notebook with each workout we do every day and what weight etc. Each day he looks back at the notes and adjusts the workout accordingly.
If you have ever thought about getting a personal trainer, then I would highly recommend you go see Adam Cisneros at Crossroads Fitness. Remember you have to commit to yourself first and once you've made that commitment then Adam can help you achieve your goals that you never thought were possible.
2014 90-Day Challenge Winner
Sunny Cronk
I decided to do the weight loss challenge because when it began I was already in weight-loss mode. I started training with Kylie doing a lifestyles class 3x/week near Halloween, 2013. I'd already lost around 20lbs, and the challenge was extra motivation to stick to my diet and exercise routine.
A lot changed in my lifestyle to make this weight come off. (48.4 lbs so far!) First, I increased my H2o intake and decreased my diet soda/crystal light intake greatly. I like my food ready quick because I'm a mega busy lady! I have veggies chopped and pre-make several salads each week so that they're ready to grab out of the fridge and eat right after my workouts. I now snack on fruits and veggies and keep foods that trigger me to over eat AWAY from my house.
Kylie has taught me that weight loss has got to come from diet change combined with proper cardiovascular and strength training. Now, when I feel like pigging out, I try to think about what may be bugging me emotionally and write about it in my journal. If I write or talk about my feelings, I find I don't need to "make myself feel better," by over eating!
After about 90 days, I noticed that especially after a good cardiovascular workout, I FELT GREAT! I was in a better mood, and just had a "zest for life!" As I've learned, this is my body's way of rewarding me with endorphins. Now if I'm feeling down, a good sweat is usually all I need to perk up my day.
The biggest thing that helped me was having a trainer. Kylie was a great motivator. I knew that I really wanted to make this life change and that I COULD DO IT if I just kept going one day at a time. She started me off at a pace I could do. Each session is challenging, but not so hard that I want to throw in the towel. Also, she keeps me accountable. I need to follow a healthy diet or I won't see results. We have a lot of fun too!
I am SO HAPPY with my healthy new self. This has been such an amazing, confidence building, proud of myself experience so far! I'm doing things that 7 months ago would have never believed I could do. I feel so much better on the inside too because of actually addressing what's bugging me instead of stuffing my feelings down. Feeling this way is definitely worth the hard effort.
Thank you everyone for being so friendly and supportive to me! I love my Crossroads friends and staff! This is a fun place to work out! If anyone wants to talk to me about how to do this yourself, please feel free to ask!
~ Sunny
From a member . . .
June 23rd, 2012

Dear Dale and Crossroads Fitness Center Staff,

As a long -time member of Crossroads Fitness Center, my family and I have always enjoyed your wonderful facility. The 2011 – 2012 year has given us an even greater appreciation.

We send our heartfelt thanks to all the staff for helping us through a difficult time. During a health challenge, Crossroads staff was an intricate part of our lives. Many times, I would visit Crossroads for a workout, sometimes twice a day! Your exceptional staff was not only helpful, kind and supportive, but non-obtrusive.

Crossroads became a second home. It was and is a place to maintain our physical strength and whole-health equilibrium. We are grateful for all your concern and we are looking forward to many years of enjoying the Crossroads Fitness Center family.

Sincerely,
Kathy, Pat and Sam Arbeiter