Group strength training classes will not only help you feel better and stronger, but will also help to increase your muscle and bone density. In addition, Strength Training also helps you burn calories not only during your workout, but for the rest of your day!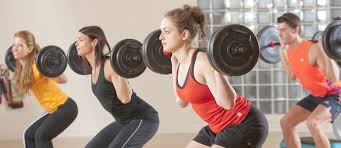 (To achieve optimal muscle performance, it is not recommended that Chisel and Body Sculpting classes be done 2 days in a row.) All classes 60 minutes unless otherwise noted.

ABS ONLY
A 15-minute intense abdominal workout.

BODY SCULPTING
A 75-minute class designed to improve muscle tone, definition, and endurance through light to heavy resistance, using weights, xertubes, xerbands, step platforms and repetition. There is no cardiovascular segment in this class.
CHISEL
One of the hottest classes around and the quickest way to change the shape of your body! This group strength training class utilizes a barbell and adjustable weights to strengthen and define your muscles. Our instructors will insure that every class is motivating, safe and effective.

CORE
The core of your body begins just under the armpits and ends just below the hips. Core classes will concentrate on this area with the use of the stability ball. The ball's round shape provides an increased range of motion for flexibility, making Core classes a great way to work the abdominals, back, and more! This is a 15 minute class.