Success Stories & Testimonials
Kevin Vig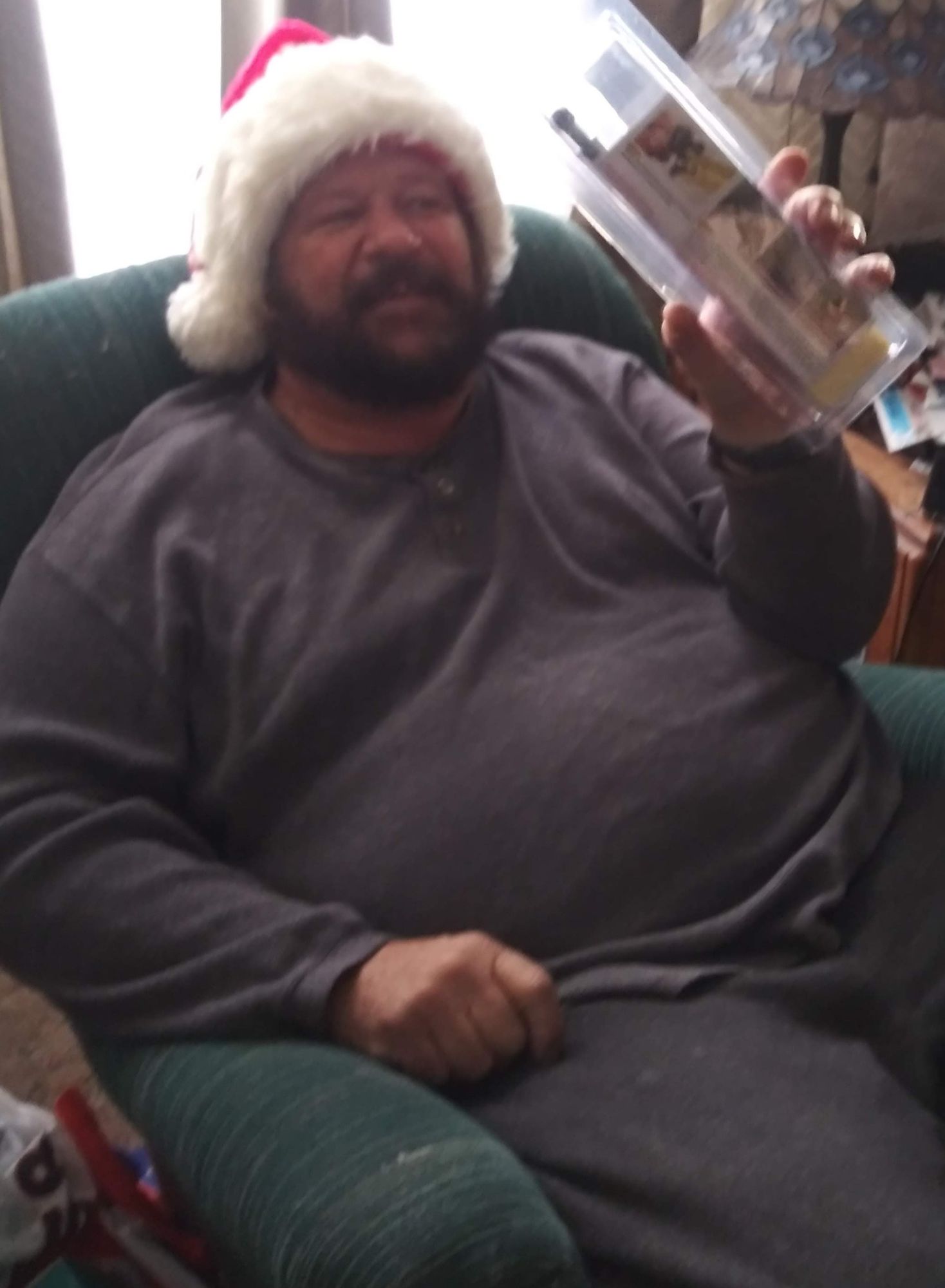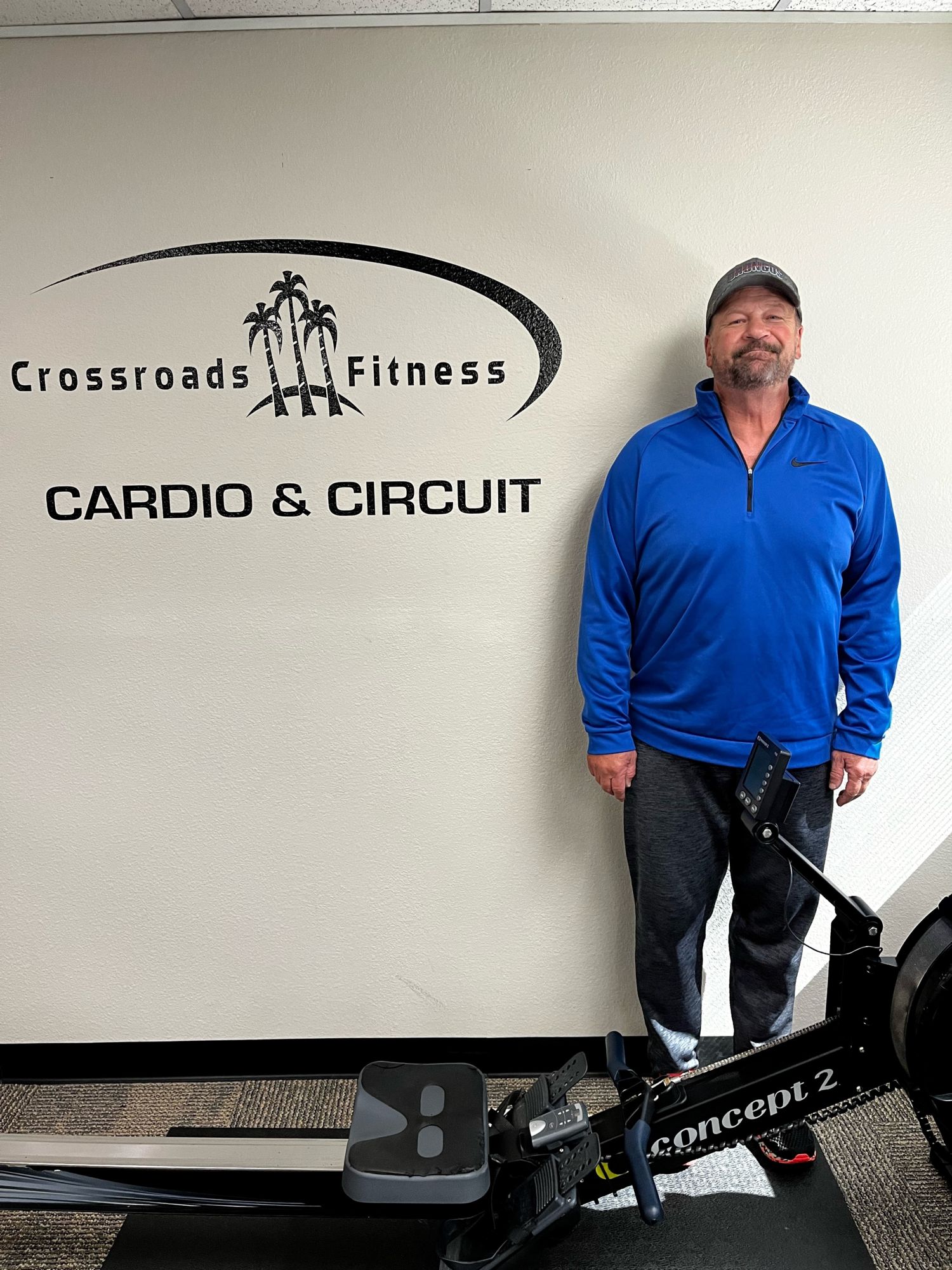 Kevin Vig joined Crossroads back in the 80's. He took some years off to raise his kids, but has been back steady for over three years. He said that during his time off from coming to the gym and making health and fitness a priority in his life, he gained a lot of weight and became unhappy with his body. His sons were his motivation to get healthy again. He has a daughter with special needs and they come to the gym as a family. He says that teaching her to exercise has been such a blessing and to see her get healthier is truly inspirational. Being more dedicated to his health has contributed to Kevin losing 65 lbs and feeling so much better. When Kevin is not working on his fitness goals he enjoys riding his Harley, going to church, preaching and spending time with his kids and wife. He is an Elder at Appleton Christian Church and his faith is very important to him and leads his life. He wants to stay active and healthy for the kids at the church too. Kevin really enjoys coming to Crossroads and says that the staff, especially Riley and Tell, make the atmosphere of Crossroads such a warm and welcoming place to be.
Congratulations on your success so far, Kevin. It's members like YOU that keep Crossroads Fitness part of the community year after year.
Brian Somerville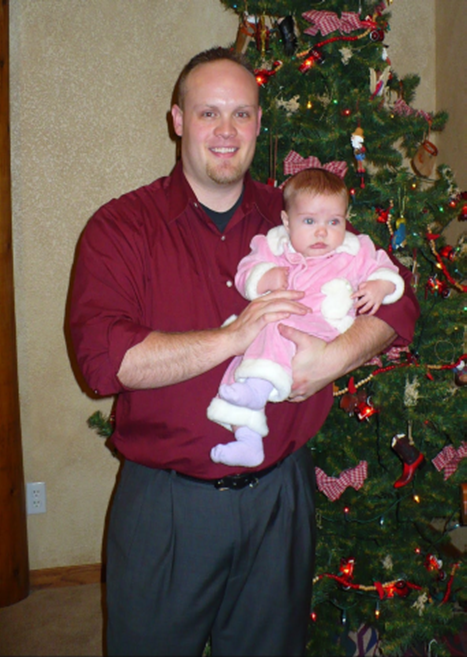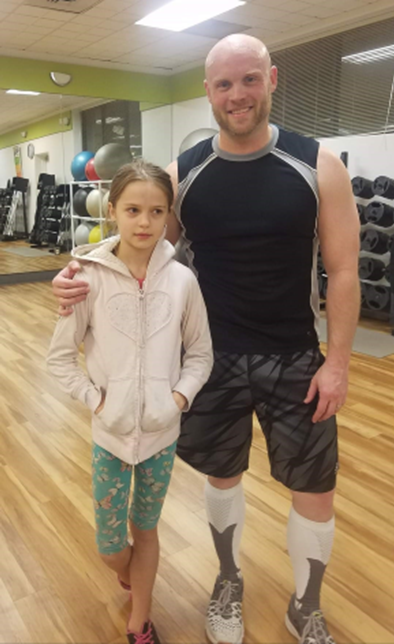 "My health and fitness journey started back in 2012. Since my college years, I've always struggled with consistency in the gym. I'd work out diligently for a couple weeks on my own, and then fall off the bandwagon for a month or two. Somedays,
I would over do it at the gym causing me to be too sore to even work out the next week. Fitness was a constant up and down struggle for me. As a result of the inconsistency, I never saw good results. My weight steadily increased over the years while I was settling into a diet of fast food and sodas.
In 2012, Molly Jo came to my work and did a presentation about Crossroads Fitness. I remember her talking about Group Fitness classes, which caught my attention because that's something I had never tried before. Soon after her presentation I signed up for a membership and the first thing I did was go to a Kick It class. I remember feeling completely exhausted after that class, but energized at the same time. I couldn't wait to try other classes! Over the following months, I became a "regular" in other classes like BodyPump and Chisel. The Instructors were all very friendly and encouraging and did a great job of making everyone feel like family. Plus, the camaraderie with instructors and other members was an aspect of fitness I had never experienced before. Staying motivated in fitness is always a struggle, but when you join in with others it makes the struggle more enjoyable. Working out became FUN to me in Group Fitness classes, instead of it feeling like a chore.
Prioritizing time to work out also became easier for me. I learned that it's not about having enough time to work out, it's all about what you prioritize. Going to a Group Fitness class became a bigger priority for me than sitting at home watching TV.
As time went on my energy increased, I was happier and I felt more confident! I was also more motivated to change my diet. Since 2012 I have not had a single soda and hardly ever eat fast food. (Although, ice cream is still a constant temptation for me!)
In 2016, James encouraged me to get certified to teach "INSANITY". I started teaching classes right away and have loved every minute of it! I truly love seeing other people be encouraged and motivated in the same ways I was. In 2020, I also got certified to teach SH1FT and L1FT, two more High-Intensity Interval Training (HIIT) Group Fitness classes.
I want all the members to know that they are not alone in their fitness journey. We are all here for them as members and instructors to help them along the way. I started out as a member who needed encouragement and now I love being that motivation for the members that come to my classes!"
Ethan Carpenter

Ethan Carpenter has been a Crossroads member since 2018. He says he owes his fitness success to his gym partner, Whitney Gilbert, his trainer, John Ball and the awesome staff and members here at Crossroads. When asked to write his success story, his first thought was "I'm not where I want to be", but he was reminded by Molly that it isn't always about where you are, but how far you have come. This was the exact reminder he needed to keep putting his best foot forward and the best will come. He is stronger, more athletic and has noticed his whole physique change throughout his journey so far at Crossroads. He has gained 30 lbs of muscle and is able to do lifts that he never even imagined before his training with John Ball. He has increased his strength by almost 100 lbs on some lifts and says that the variety of exercises John taught him made him an overall better lifter and athlete. Ethan is very humble and does not like to brag on himself for how far he has come, but he did say that having people compliment him on the way he looks now is very rewarding. His gym partner, Whitney, says that he has totally transformed his body and she is so impressed with how much stronger he is now!
"Three important things I've learned during my health and fitness journey are: 1.) I was my own worst enemy - I created my own obstacles. 2.) Everyone goes to the gym with the same end goal - to better themselves. 3.) Surround yourself with people that want to see you succeed. For me, going to the gym became more than just setting a goal and getting "swole". It is everything outside of that too like the support from gym mates, trainers and staff, and pushing through the reps, even when you feel like giving up. Understanding that sometimes it goes beyond training to meet your goals and its okay to rest, have good nutrition, hydration and most importantly, attitude. These are all variables at play."
"There will always be an excuse to not show up but there will always be an equivalent or greater reason to keep pushing." -Ethan
Congratulations on your amazing results, Ethan. We are proud of you! Keep up the good work!
Juan Santana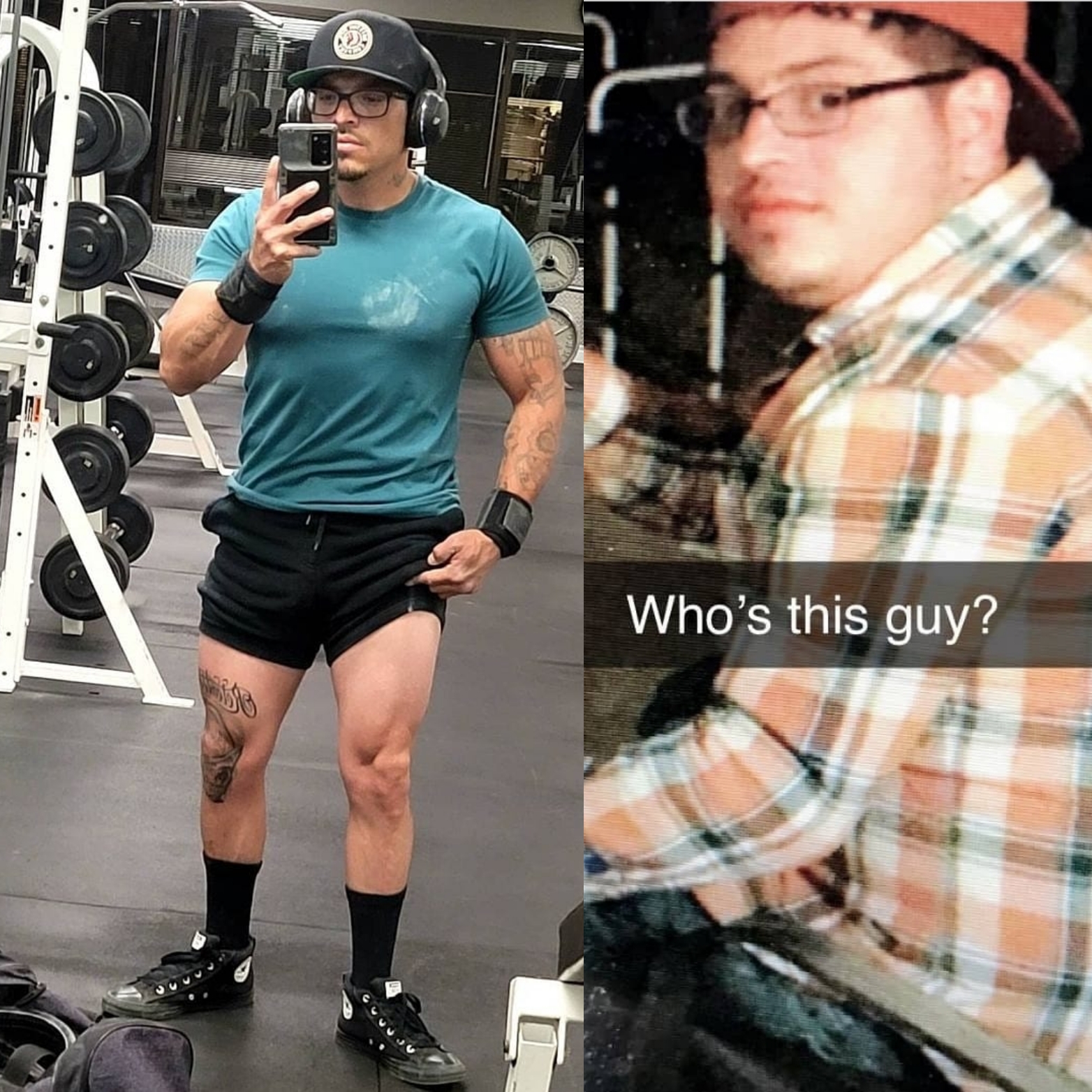 As a teenager, I started lifting weights, but I would say my fitness journey really started in 2018. My uncle asked me one night to go to the gym with him and I quickly knew that I had the drive and passion for weight lifting and from that moment on, I've been hooked! I started my power lifting journey when I noticed my friend was competing locally and I was determined to get my name out there too and join some competitions of my own. I want to keep breaking my own records and the records of those around me. I joined a team named Team Western slope and started meeting with a coach to really push myself to the next level. My first competition was in April of 2021 at the Revenge of the Kilos where I placed 3rd! I realized how much I loved this sport and want to continue this passion. I have my next competition coming up in October and I'm really excited to see what I can do! My personal records are 315 for Bench, 405 for Squats, 485 for Deadlifts and my current weight is 158lbs. I am on the right track to bring home 1st place! I love the support I get from Crossroads Fitness. There is truly no place like Crossroads and I always recommend this club to everyone I know. The staff is amazing and will do anything to help you out. Getting into the fitness industry has been one the best decisions of my life. I want to thank Crossroads for being a place where I can make my dreams become reality.
Shad & Nikki Allerheiligen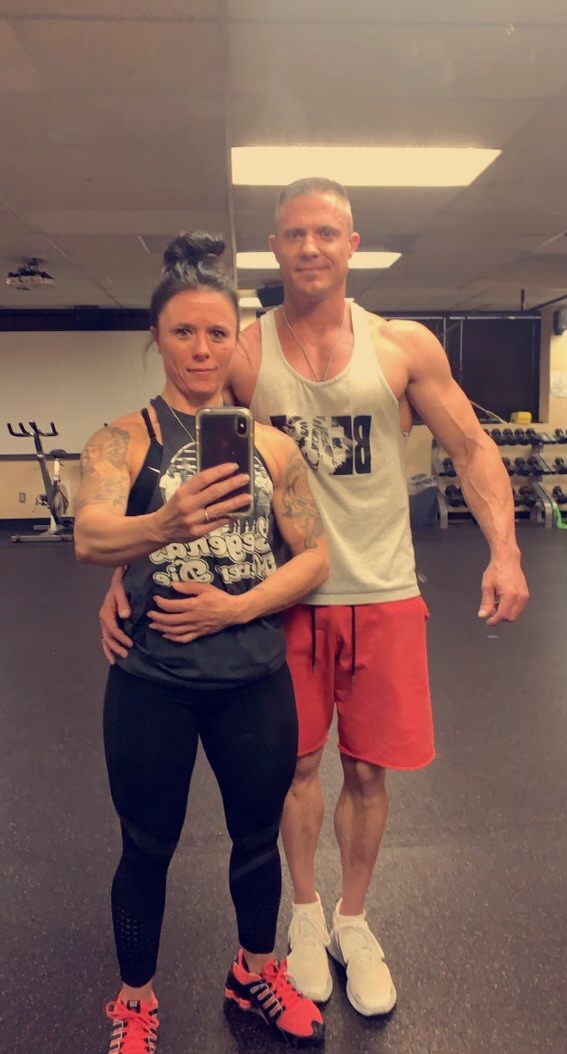 This power couple is an inspiration to so many of our members. They recently got married on July 24th. Shad, who has been a member of Crossroads since it first opened, says that the community and the members at Crossroads make this place a second family to him. His daily workouts have turned into more than just exercise. It is a time to interact with the next generation of athletes and like minded people who come to Crossroads. He's influenced several members to branch out and do fitness competitions. That is truly where Shad and Nikki have found their passion in the last few years. Training to compete gives them drive and motivation that is incomparable to anything else. Currently they are both training for competitions. Shad is preparing for the Nationals in Pittsburg on September 1st and Nikki will be competing in March.
Shad is a barber and owns Slim's Barber Shop here in GJ. He has also spent twenty years coaching youth sports and is super proud of the athletes he's coached in his lifetime. He says the biggest change and best thing he ever did for himself was to get sober. Crossroads was a big part of helping him heal from his addictions and if it wasn't for Crossroads and the support he's gotten from his friends and family, he doesn't know where his life would've ended up. Nikki works for Jabil, a company that makes and ships airplane parts for the government and Boeing. If you're interested in learning more about Fitness Competitions, Shad and Nikki would love to show you how to get started and mentor you along the way.
Congratulations, Shad & Nikki, on all of your achievements and your wedding!
Good Luck at Nationals!
Crossroads will be cheering you on from home!
Mike Kretz


Mike started his journey back in January. He was set up with personal trainer, John Ball, and immediately realized this relationship was going to change his life. He had really hit a point with his health that was evident to him and his wife that changes needed to be made. He began his training with John and his wife began cooking healthier meals for them at home. He said that without her amazing cooking, he wouldn't be nearly as successful as he is. We are calling this a "wellness journey" because Mike says he is not done yet and that he has a long way to go before he can consider this a success story. His trainer says that since January Mike has lost over 50 lbs and several inches off of his whole body, but particularly his waist and hips where he has lost 8 inches!
"The best thing about this journey so far is that I have a completely difference mindset. I have a drive in me like never before. John really is the best trainer and motivates me to push myself just enough to keep my confidence up, but also to push me a little out of my comfort zone. He always sees how to fix my form on an exercise before I even feel that I am doing it wrong. He is so observant of my form and posture but still knows how to kick me in gear. I'm still struggling with getting adequate sleep, but that just comes with my job and working late nights. I can proudly say that I hit my first goal of being able to fit in the sports coat that I had my eyes set on. It was a great moment when I tried it on and it actually FIT! That's when I really felt like I am seeing success in this journey and I can't stop now." Mike says.
"Mike is so committed to our training and his workouts. It's so refreshing as a trainer to have a client as dedicated and positive as him. His famous saying around the gym is "I can't complain". He really puts in the work and knows his limits and how to hit them safely. I am excited to see where the future takes him and just how far we can go together." - John Ball.
Keep up all the hard work, Mike. We are so proud of you and excited to see where your journey takes you.
Amber Doggett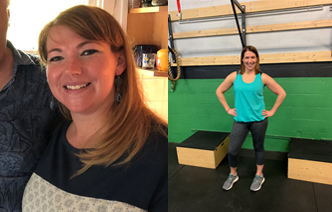 I joined Crossroads Fitness in 2015 after graduating from Colorado Mesa University. I was referred by my neighbor who raved about the friendly staff and relaxed atmosphere and I liked the idea of supporting a local business. Over the next few years my attendance and motivation were sporadic. I was a heavy drinker and I smoked about half a pack of cigarettes a day. On January 1, 2019 I decided I was not happy with my life and decided to change. I quit drinking and smoking and started going to the gym five days a week. I immediately noticed a change. I had more energy, I was sleeping better and had an overall better attitude. The more I noticed changes, the more motivated I became. In 2020 when Crossroads re-opened, I saw that they were running a special on personal training. While I was happy with the progress I had already made, I had gotten into a bit of a rut with my routine. I thought personal training would help me learn some lifting techniques, something I had been afraid to try on my own. I started working with Molly and within weeks I saw definition in my calves and upper arms. Molly not only taught me how to lift properly, she also helped me with my self-esteem, continuously reminding me that I am stronger than I think. I am grateful for the support and encouragement from Crossroads, because at 37-years-old, I am in the best shape of my life!
Summer Bingham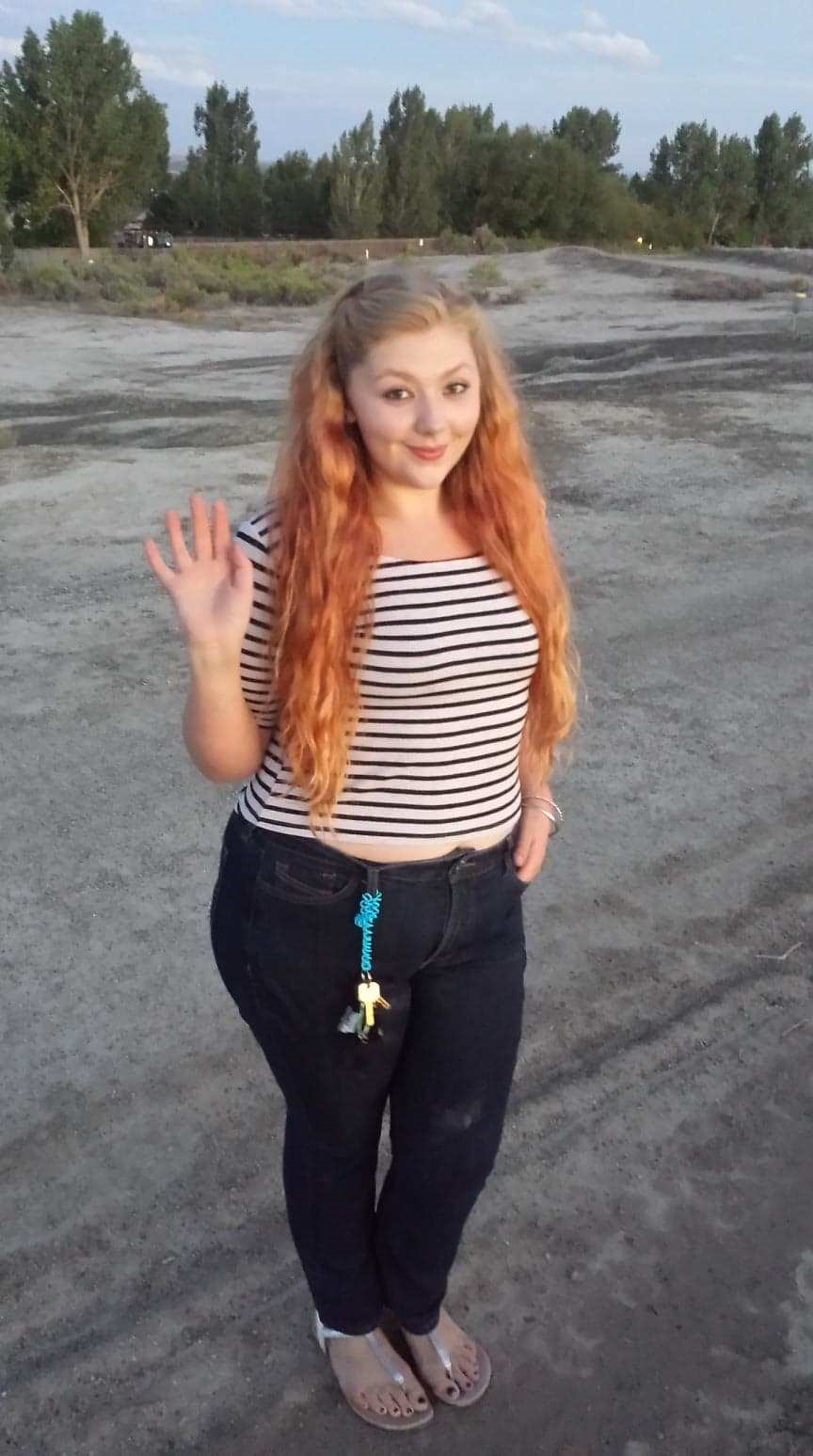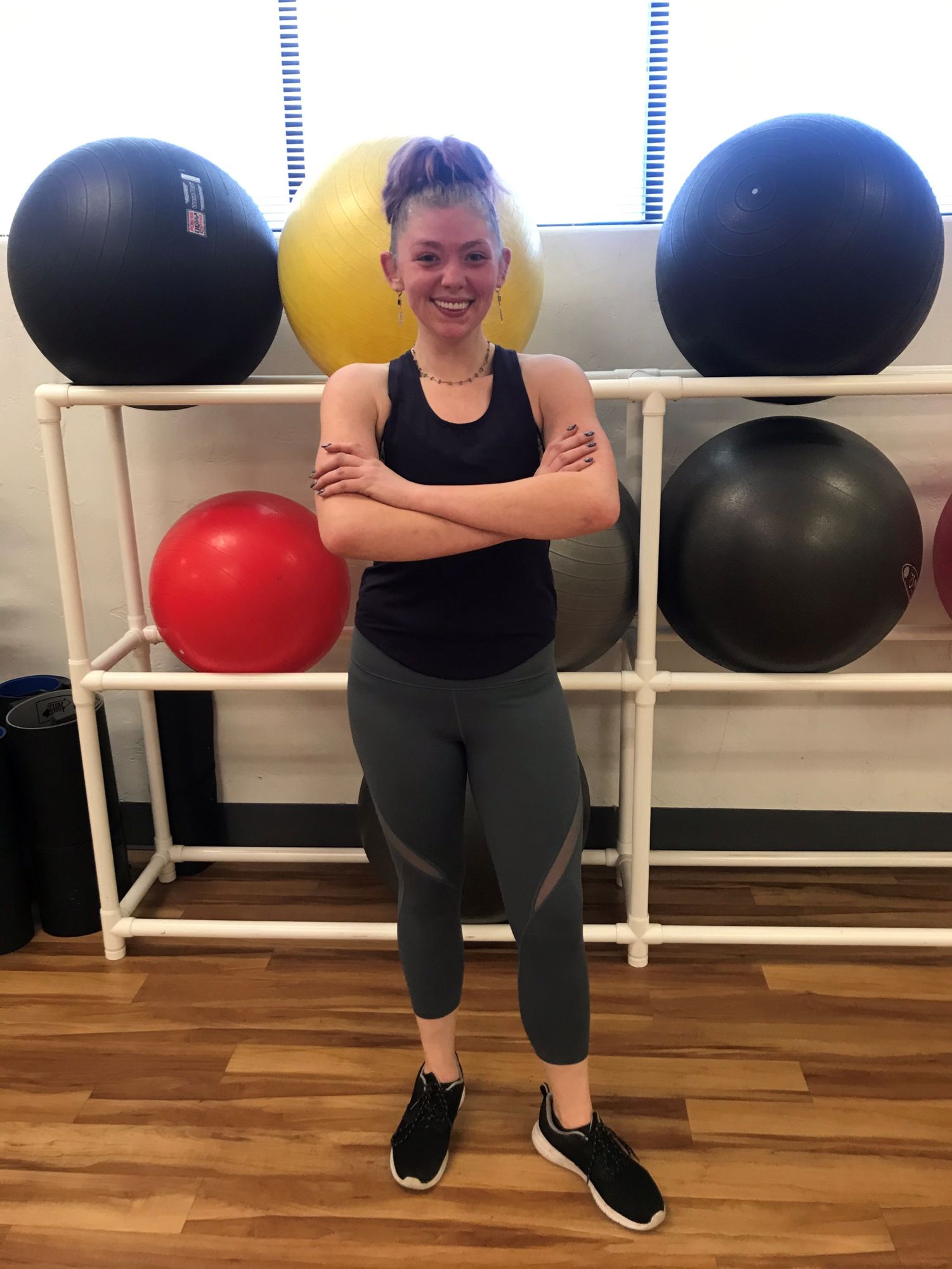 My Crossroads Fitness journey started back in October of 2020. I was so tired of being tired all the time. I constantly had back pain and was not confident in my appearance, which affected more areas of my life than I realized. Simple everyday things like playing with my son was difficult. My whole life was based around processed foods and a very sedentary lifestyle. I knew I wanted to change, but I just never knew how or what to do. In October, I started working at City Market and took advantage of the Work Place Wellness program that Crossroads offers. I signed up for the free month and was instantly hooked! I feel like I am part of a big family here at Crossroads and they are all part of my journey. Since starting, I have lost 35lbs and gone down from a size 18 to a size 10! My body has completely transformed! The group fitness classes keep me motivated and give me something to look forward to. I try to get to the 5:15am classes as many times a week as I can and I really enjoy BodyPump, Chisel, Yoga and Group Cycling. I don't have back pain anymore and I am actually getting muscles! Yes! I have so much energy now and my body craves exercise! My days don't feel right if I don't start it with a workout. Thank you, Crossroads Fitness, for being just what I needed to change my life!
Congratulations Summer! We are so proud of you!
Chris Abeyta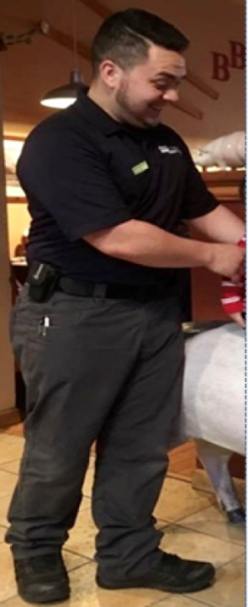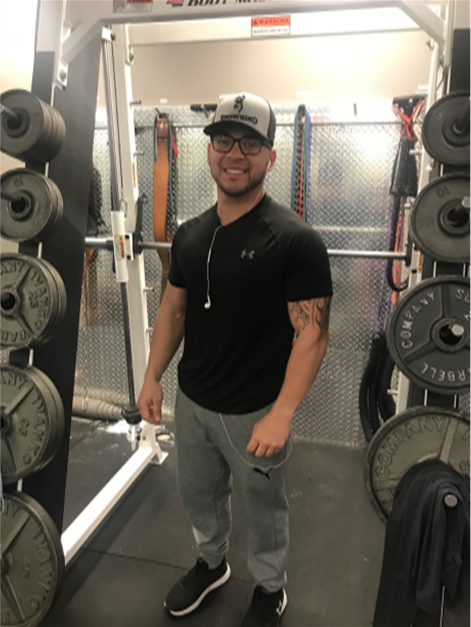 I am so grateful to have found Crossroads Fitness. I was always an athletic person, but once I joined the military I knew I had to be in the best shape I could be. Once I was discharged from the Army, I found myself at a stand still with my health and fitness and ended up gaining over 40lbs. I had really let myself go and I was struggling in more areas of my life that contributed to not being healthy. My interest and motivation changed after I got divorced and I knew I wasn't being the father and husband I wanted to be. I wanted to change. Once I began changing myself mentally, physically and spiritually I really started to see a difference. I began to build healthy habits with diet and weight training and how I view myself and other people. I've now lost 48 lbs! I love coming to Crossroads. This place really has everything I need to be successful in my journey and I'm excited to say that I signed up for a Classic Physique Competition for May 2021. This has always been a dream of mine and to have a goal to be a better and stronger version of myself is possible because of Crossroads.
Jadee Hall

I joined Crossroads when I moved to Grand Junction and started working at the downtown Alpine Bank at the end of 2014. For the first year that I was a member, I wasn't making time to exercise and ended up putting my membership on hold. I am a busy mom of three and I work full time, so carving out even thirty minutes per day seemed impossible. I have a son that is 9, a daughter that is 8 and my youngest son is 5.
In the summer of 2017 I had decided that I was going to make the time for me. So, I renewed my membership and started going four days a week. With some changes to my diet and cardio four days a week I lost about 25-30 pounds! In 2018, Crossroads was offering a special discount for personal training so I decided to give it a shot. Molly, the downtown manager, introduced me to Neil, my trainer, and I did an 8-week session of personal training and loved it! Once that was over I wanted to continue, so I joined a small group training class. I have lost a total of 40 pounds and I have gained more strength than I have ever had or could imagine!
I also take several classes that Crossroads offers. The classes I currently enjoy taking are Sweat-n-Sculpt on Mondays. I enjoy that class because the instructor, Ana, is a fun and energetic instructor and as of January I started taking Insanity Brian. He is so great and really pushes us to do our best!
I train with Neil on Tuesdays and Thursdays. The small group I train with is the best. We always have a lot of fun. My motivation to keep going is my family. I get one hour every day to myself, to focus on me, which makes me a better mom and wife. I make sure to carry it through the weekend even when I am not in the gym, to get at least 1 hour of exercise a day. We have a very active family and being in the best shape I can be shows my kids how to live healthy lives.
Nancy Benton

I'm Nancy Benton and I joined Crossroads over four years ago when my friend Deb invited me to join her. I grew up in California near the ocean and enjoyed several water sports including water skiing. We had limited health club options where I lived at the time and the focus on health was not as well defined as it is today.
I became a member of Crossroads because I felt that the staff takes a sincere interest in my health and they encourage me to maintain an active exercise program to help me stay healthy. I especially like the fact that my personal trainer, Carla, designs a fitness program to match my needs with a balance of weight training, cardio and strength building programs. When I first started training, I could barely lift any weights. I am so much stronger now and have gained so much muscle! I have met other members who enjoy the same type of programs and together we have a support network that encourages each other to reach our goals. In addition to Carla and my fellow exercise partners; I enjoy the facilities, the equipment and most of all, the people at Crossroads who all seem to care about being healthy. I know that with a regular schedule and a good balance in my workouts I will be a happier and more energic person. My exercise programs will also help me to keep up with my children and my new grandson. When I am not at Crossroads, I enjoy hiking the many beautiful trails in Western Colorado. Thanks to Crossroads, I am a healthier and happier person than I was before I joined the club.
Congratulations Nancy! We are so proud of you!
Grace Powders

Grace Powders has been a Crossroads Fitness member since July 2006. In 2013 Grace and her husband really started to get serious about coming on a regular basis. They always come to Crossroads together to keep each other accountable. Grace was recently at a routine doctor appointment getting blood work done and the results weren't as good as her doctor would have liked. The doctor wanted to put Grace on medications, but Grace insisted that she could manage her numbers though lifestyle changes.
Grace was motivated by her Grandmother, who lived to be 115! She is the youngest of 9 brothers and sisters, 6 of whom are between the ages of 80-90. She's been able to witness first-hand what diet and exercise can do for your health when armed with good genes, a husband who can hold her accountable, and a positive mindset she has been committed to making better health choices.
She has lost weight and gained muscle. The one thing that surprised her was the fact that her arthritis pain has diminished. Grace was diagnosed with arthritis years ago. She had come to terms with the fact that she would just have to work through arthritis pain. Her doctor told her years ago that she could work through the pain or she chose not to move her body and then her joints would freeze up and her mobility would go away. This motivated her to move her body; knowing that this would keep her mobile through the last quarter of her life. Because she lost weight, she has less weight to carry on her joints and is in less pain!
Grace is an inspiration to us all. She has the mind of a 30-year-old and wants her physical body to be able to keep up with her mind for decades to come. She is not ready to let her body influence what her mind and insides feel. She knows it's her responsibility to get the information she needs to make sure she is making educated choices for her long-term health goals. Grace continues to come to Crossroads because of the inviting staff and friendships she has built and is a regular in group cycle. Grace believes, You get to choose to be healthy and I am blessed with what God gave me.
Congratulations Grace!
We are so proud of you !
Jabson Tobin

Jason Tobin has been a Crossroads Fitness member since 1987. His mom signed him up for a membership when he was 12 years old. Jason joined the military in 1995 and during his combat tour in Iraq, he was critically injured. The doctors didn't give him very long to live. He proved them wrong, but was bed ridden for over a year. During that time, he gained over 70lbs. During this time the was diagnosed as paralyzed and was told that we would never walk again. Jason never gave up. Wheelchair bound, he attended rehab 6 days a week, lost 60lbs and worked his way to crutches, then to a cane, and eventually would succeed at walking unassisted. Jason retired from the military in 2007. Jason welcomed his first daughter in 2012 and his second followed in 2013. It was then that he started to gain weight again.
In 2017, Jason was the heaviest he had ever been at 277lbs. He had back and joint pain, he was battling depression and was very stressed. He knew he had to make changes. Instead of giving up, he came to Crossroads. He has been coming to the club on and off for years. He loves the staff here at Crossroads; he's known Pat since he was a teenager. He really appreciates the laid-back feel of the gym and the no judgement attitude that all the members have working out here. He has never felt intimidated to work out here. For the past 2 years he's been coming every Monday, Wednesday and Friday. He does the Cross Trainer for about 75 minutes and then hits the pool for swim laps for another 30 minutes. He is now 193lbs! His goal was to get down to 210lbs and he was able to shatter that. He admits that he's plateaued a couple of times, but he never wanted to quit. Jason says, "What helped me through my plateau was backing off my workouts and only come 2 times a week instead of 3 times a week. I didn't exercise more." His body needed a little extra rest and he listened to his body. Now the weight is melting off again! Jason believes, "Fight to get through every day, because every day is a battle. I train the way I want to live."
Congratulations Jason!
Keep up the great work!
Caesar Dotta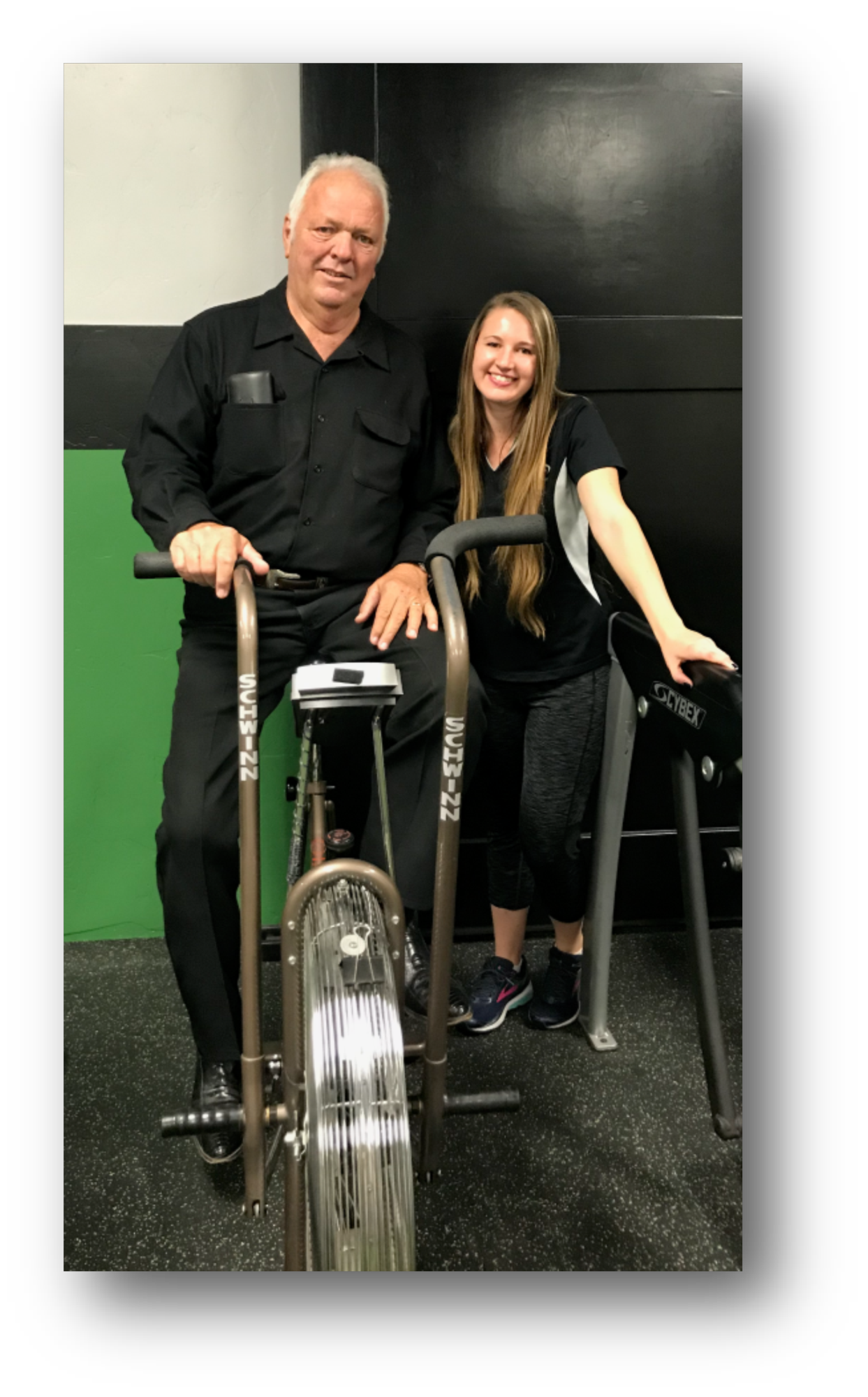 Caesar is in the Heart Strong program lead by personal trainer, Amber Dalley, here at Crossroads Fitness. He consistently comes three days a week because he says that not only is it good for his body but it's even better for his mind! He says that without the Heart Strong classes, he knows he wouldn't be this healthy and feeling as good as he does. He has lost 25lbs in the time he's been working out with Amber and all his friends he has made through the program. Caesar says that what he looks forward to most of all are the hugs he gets from his fellow Heart Strong members and his trainer, Amber. Caesar always has a joke up his sleeve and a good laugh for the other members. He says that he keeps coming and stays so dedicated to the program and the workouts because everyday tasks are easier than they used to be and he knows it's so good for him. Amber monitors their heart rates and blood pressure during the workouts to keep them safe. His favorite part of his day is coming to Crossroads and seeing all his friends.
Keep up the good work, Caesar! We are proud of you!
April Urban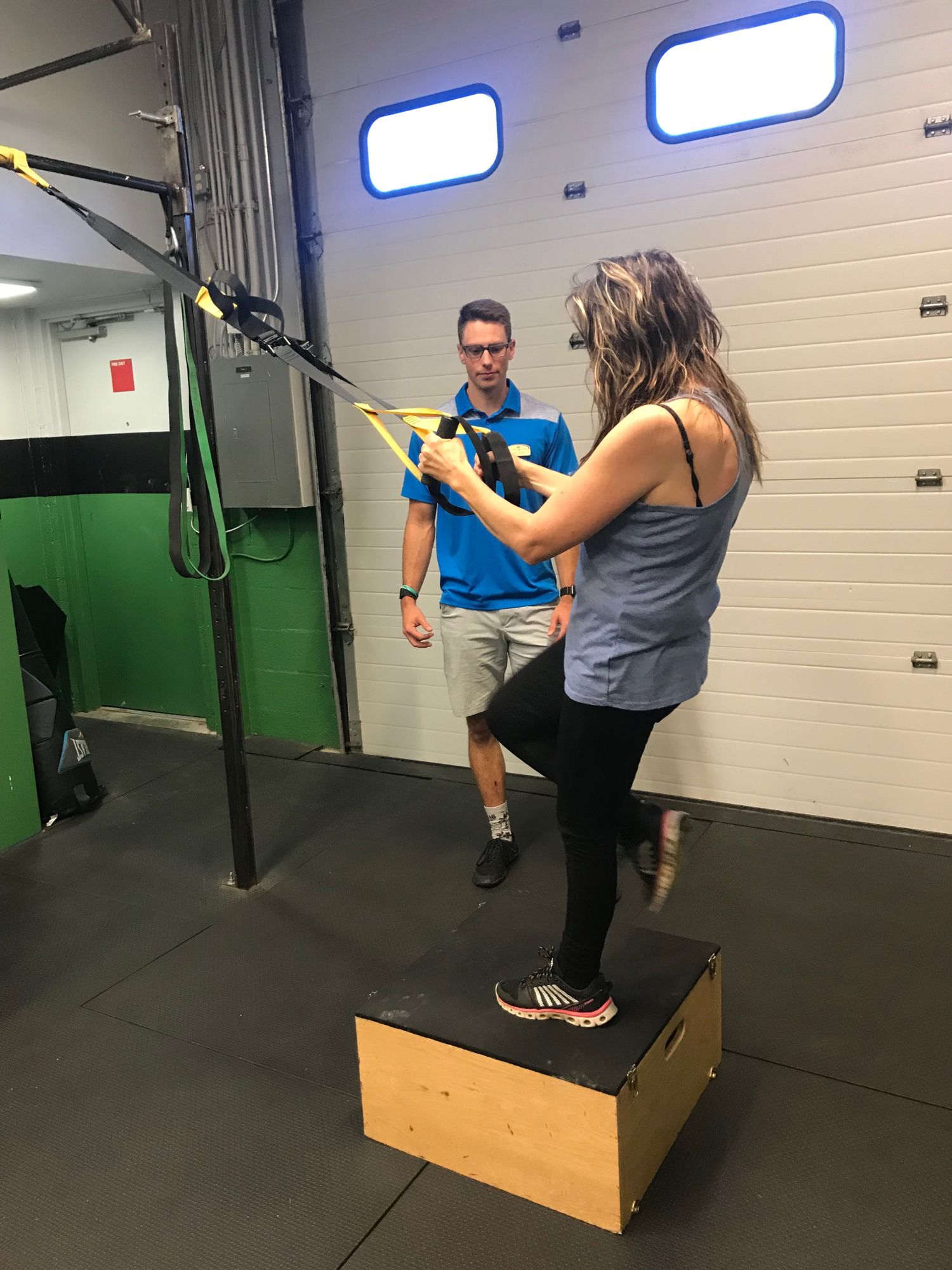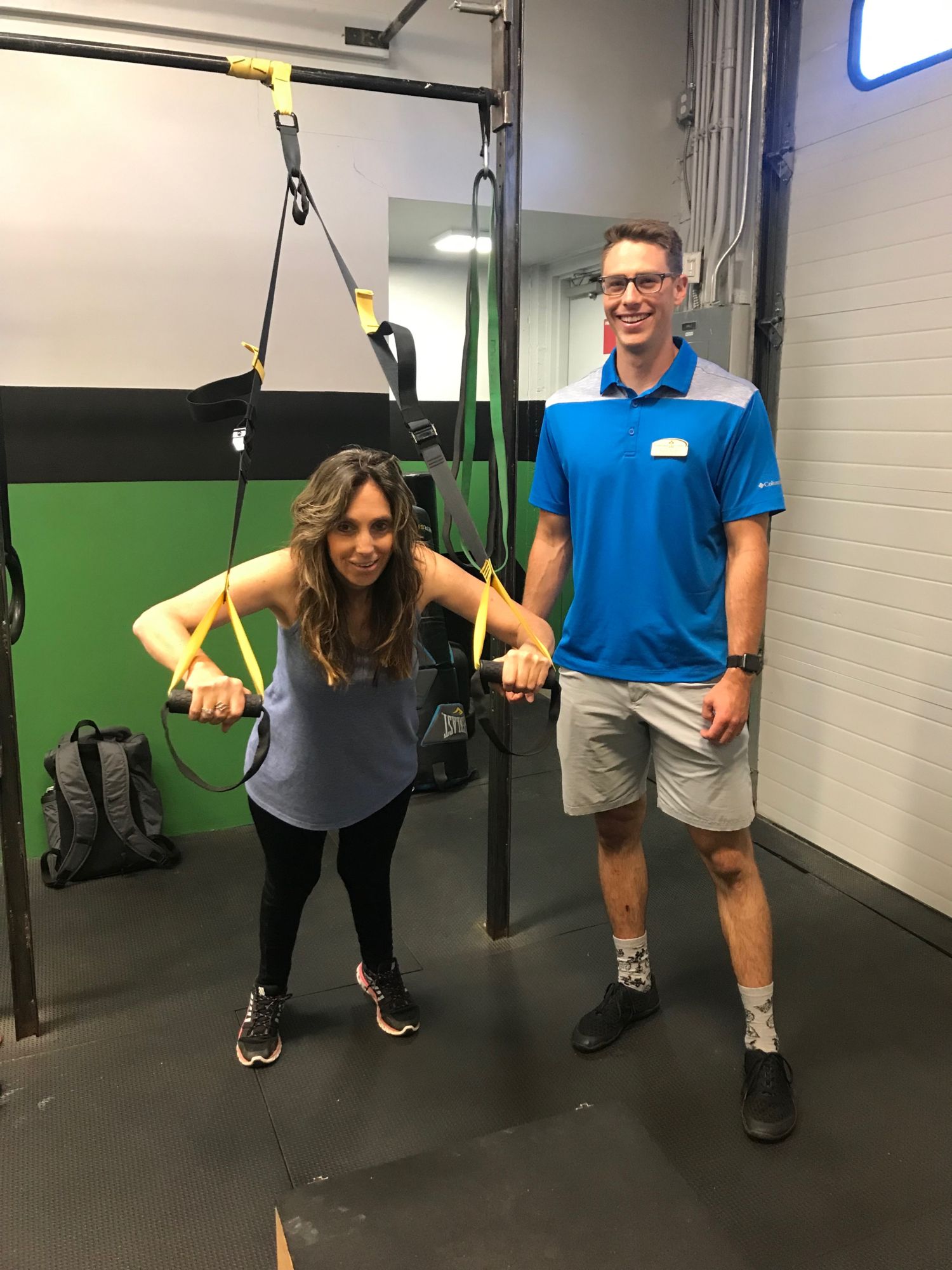 I have been a member of Crossroads for a little over a year now. I first got introduced to Crossroads and my trainer, Neil Ryan, when some of the staff came to my work to do a Workplace Wellness presentation. I signed up for a membership and personal training because I needed and wanted to feel better! Neil has been wonderful with teaching me proper exercises as well as working on my goals of increased range of motion, strength and flexibility. I have Rheumatoid Arthritis and have struggled with those things since I was 16 years old. Neil has been so dedicated to helping me reach my goals. I can do things I haven't been able to do in years. The staff at Crossroads is amazing and it's so comforting knowing they care about you and who you are!
Thank you Neil and all the Crossroads Staff!
" When we first started training, April had a lot of mobility restrictions and her functional movement was very limited. She started out barely able to do a lunge and now she is doing split squats on the bench. Her strength has increased so much too! She is even working on pull-ups now, which is incredible to witness." - Neil Ryan, April's trainer.
David Maier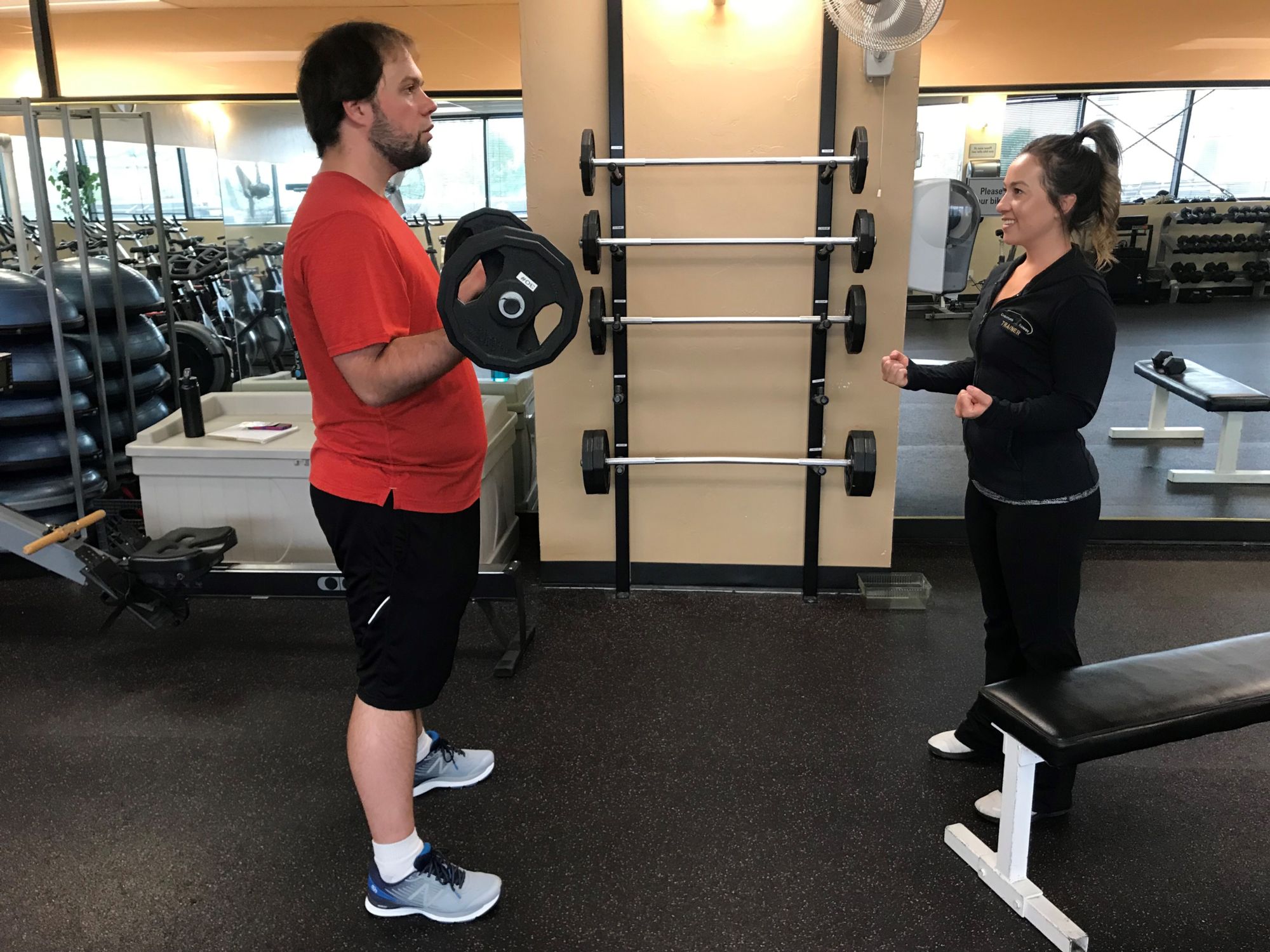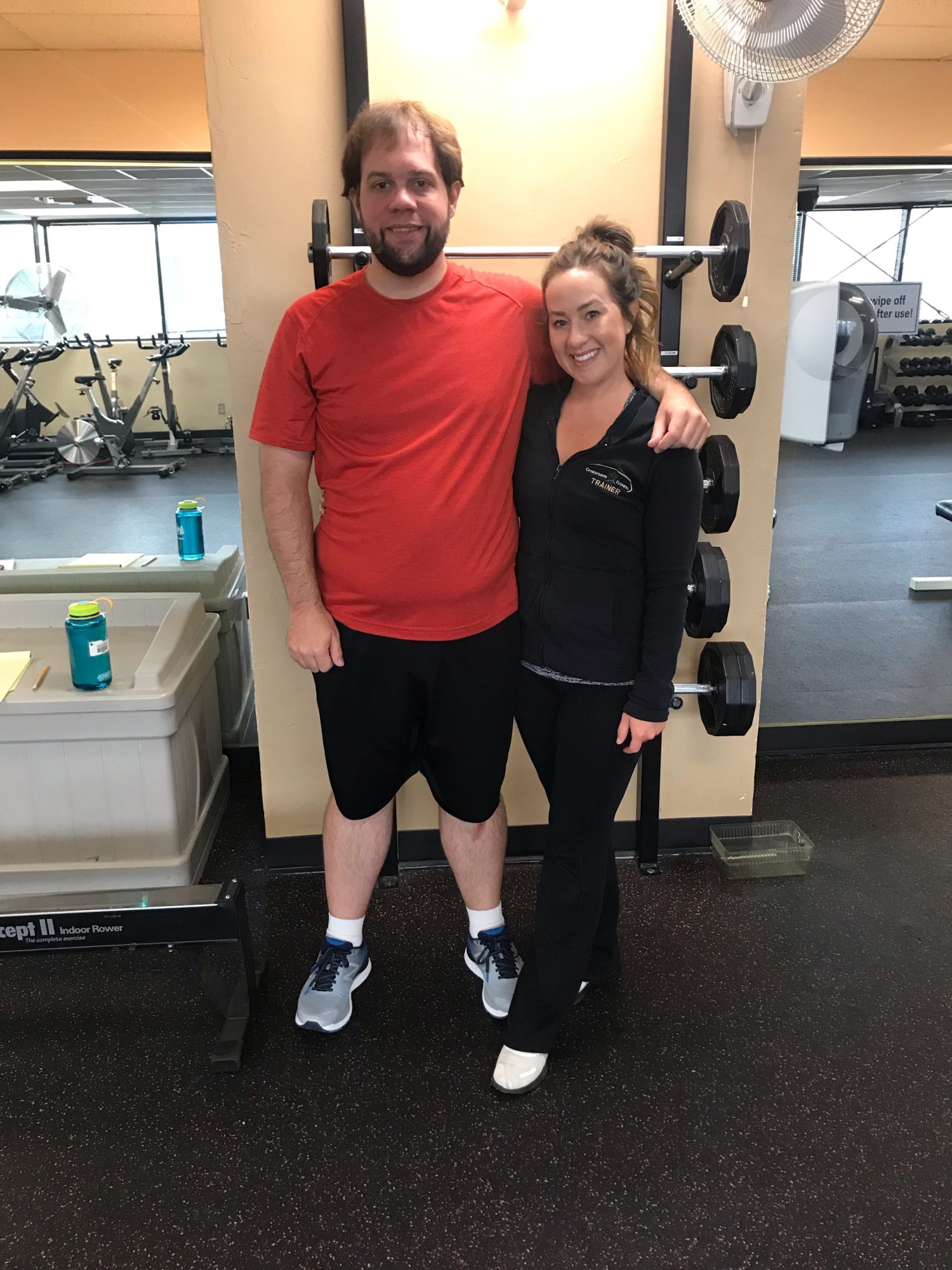 During the four years that David has been training with Sierra Wiggins, Crossroads Personal Trainer, he has had tremendous success in his health and fitness lifestyle. He has lost 50 lbs. and transformed his entire way of eating and working out. He is most impressed with how he can now keep up with his family on hikes! Before training with Sierra, he wasn't comfortable in the gym and didn't' know all the different variety of exercises you can do to make exercise fun!
"When I first started I was overweight and had very little endurance. My idea of exercise was running and weights, neither of which were very appealing to me. I bought a rowing machine for the low-impact exercise, because I was heavy enough back then that standing and walking hurt too much and I didn't want to wreck my joints. This is when my Mom actually introduced me to the small group training here at Crossroads."
One thing David says he has really enjoyed about training with Sierra is how she keeps the exercises and workouts fun and changing. She keeps the muscles and body guessing and right as the body is adapting to a certain routine, she changes it up again. This avoids both physical and mental plateau. He is very proud that going for a hike or walk is much easier now than when he first started. He is no longer disappointed in how slow his pace is or being limited to the distance he can go, which is very encouraging.
"The most valuable part of training is having the schedule and routine. It's a specific thing I have to do at a specific time and that keeps me accountable and keeps me coming!"
Congratulations David!
Jim and Deb Stover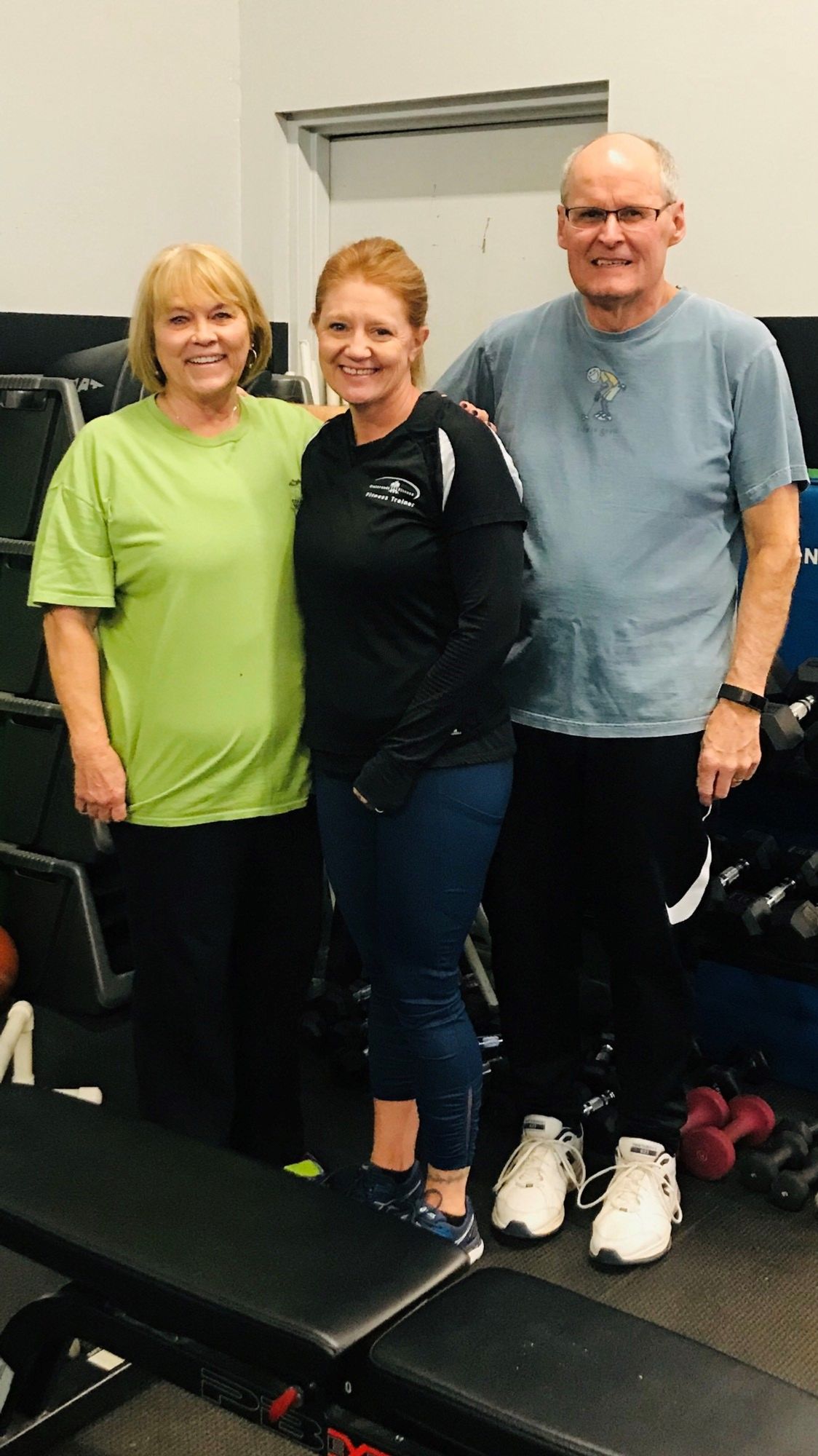 This sweet couple have been Crossroads Fitness members since the early 1980s. They joined a Small Group Training class with personal trainer, Tina, with goals of getting stronger and to have better balance. Jim says that he enjoys the group training atmosphere because it is fun and motivating. He is able to walk his dog 6-8 miles per day now and his balance is better than it has been in years. Deb says she has noticed a huge increase in her upper body strength. She says that every day tasks like washing dishes and unloading the dishwasher is much easier now than it used to be and she contributes all of that to her training with Tina. Together they have some knee troubles and shoulder injuries that they have to modifify exercises for and Tina is wonderful at giving them exercises to do to accomodate those issues safely.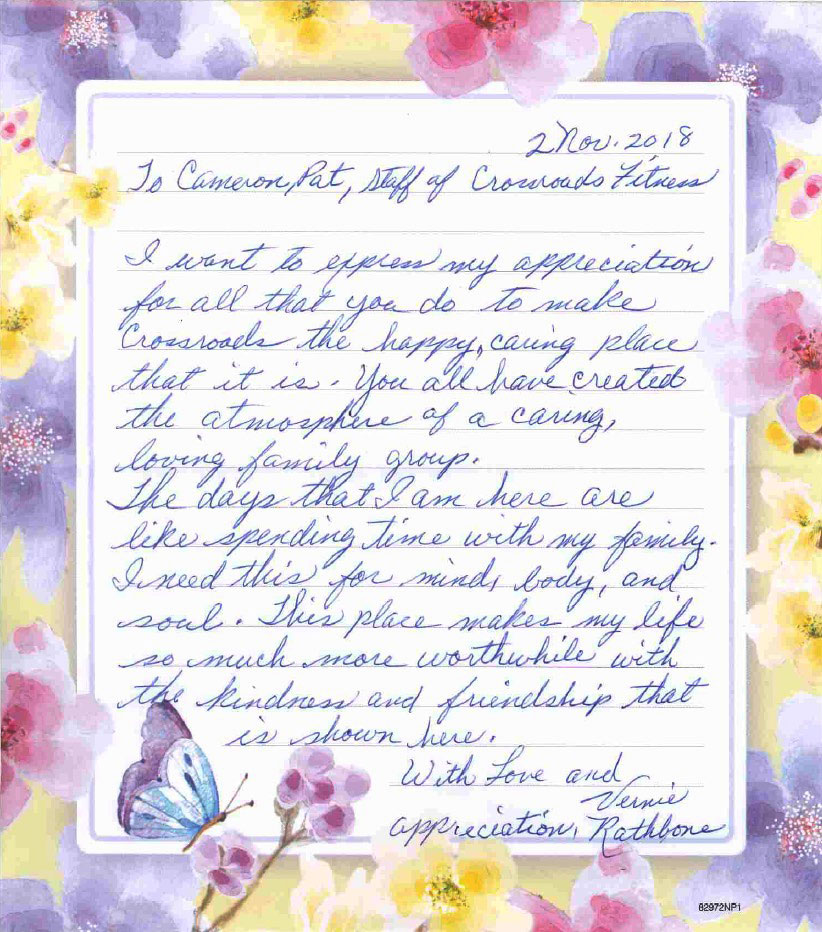 Melissa Bjork and Susan Vaughn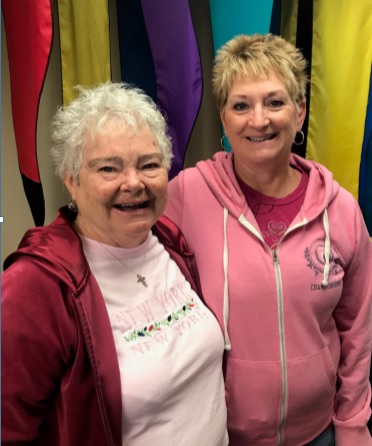 This Mother/ Daughter duo is a ray of shining light here at Crossroads Fitness. Melissa and Susie have been coming to Crossroads since February of 2018 and have found that this is their happy place! They enjoy going to the Sweat-n-Sculpt classes on Tuesdays and Thursdays. Melissa has found a passion for exercise she never knew she had and being able to share that with her mother she says is a true blessing. Her mom, Susie, has two knee replacements that she needs to be cautious of, so at first she was nervous and felt a little intimidated about taking a group fitness class. Pattie, the Group X coordinator, made her feel so much more comfortable and excited to take the class because she was so welcoming and helpful about what to expect and how to modify the movements to meet her fitness level. Seeing a few familiar faces that she knew from Rocky Mountain Health Plans was also comforting and eased her nerves that first day. They have been coming consistently to these classes since July and have tried a few new ones like Water Aerobics and Spin. Susie was excited to share that she lost six pounds in the first two weeks of coming to the classes at Crossroads and Melissa is determined to get her body healthy and fit. They are a loveable duo that spreads happiness and makes all of us here at Crossroads smile from their true joy!
Tara King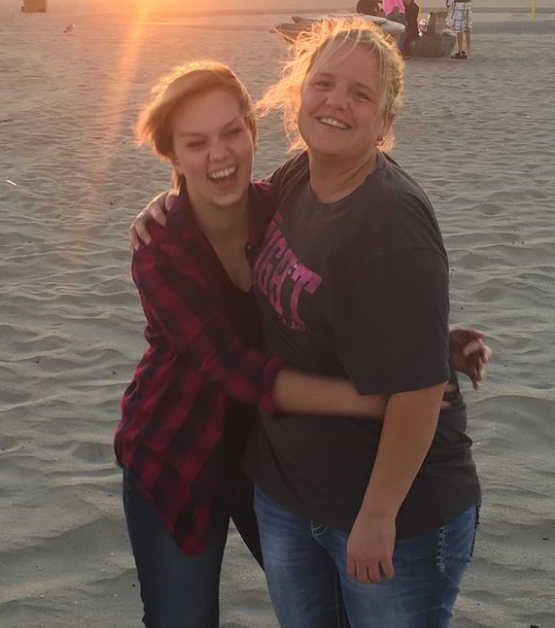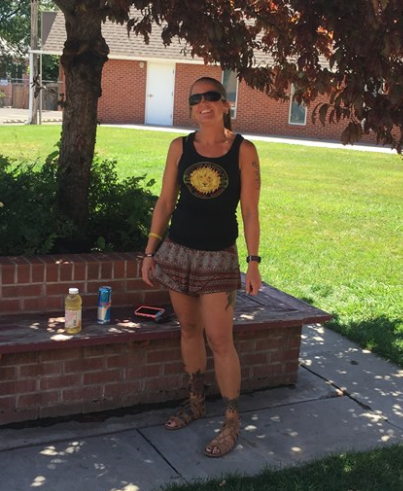 Before Crossroads Fitness I had always struggled with my weight and self-confidence. For many years I would eat when I was sad or happy and every occasion focused around food. I developed a serious food addiction. Add that addiction to a sedentary lifestyle and I ended up depressed and very down on myself. That's when I decided to join Crossroads! Getting started was tough, but with the help and encouragement from the staff and instructors I began to see results. I consistently took the group fitness classes Crossroads offers. The amazing people I have met though the classes have become a huge part of my life! Now I take HITTS, Insanity, P90X and Kick It on a regular basis. I love the high energy of everyone in the classes. We motivate and encourage each other. As much as I have loved seeing the physical results, I also realized that I needed to truly love myself again. I receive so much support and love from my "gym family" here at Crossroads who know the real me and continue to build me up daily! The instructors and members have become part of my success and without them I wouldn't be where I am today.I have lost over 50 lbs, but have gained so much self confidence! I am excited to continue on the journey of being physically healthy and want to thank Crossroads Fitness for all the loving support and encouragement they have all shown me!
Sam Baldwin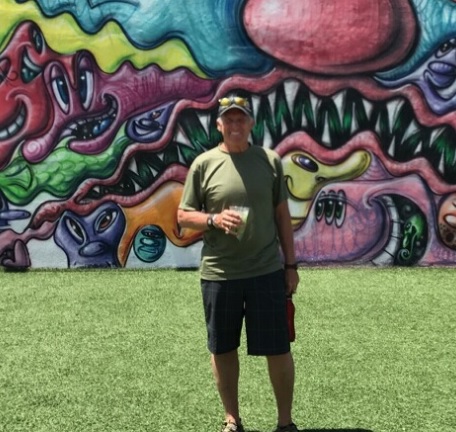 I have been in Crossroads Fitness small group training with Amber for a over a year. During this period, I have dropped over 40 pounds and trimmed my body fat considerably. Friends that haven't seen me in a while will ask me what I have been doing due to the physical changes I've made and I always credit it to the training with Amber three times a week! I can honestly say that I'm in the best shape of my life and not only look better, but feel much better as well. I finally have a bounce back in my step at 66 years old!
I had several motivating factors to commit to this journey. I had knee surgery and wanted to recover as quickly and thoroughly as I could. The Doctor's pre-op vital statistics labelled me as "obese" since my BMI was in that range. That statement really impacted me as that was not the person I wanted to be! Crossroads has a program to rent exercise equipment for home use, so I rented a bicycle to rehab the knee until I was ready for the small group training. Once I was ready for the small group training, Crossroads staff fitted me with a trainer that they recommended as the best fit. That is when I met Amber! She is a very motivational and inspirational trainer. Not only does she push us, but if something hurts due to pre-existing issues she always has alternative exercises to utilize the same muscle group. Having a sedentary desk job as a CPA, I never realized the impact from the easy life but negativ impacts from this lack of activity. I fully plan to continue Crossroads small group training as I consider it a very worthwhile investment in myself! I can now hike for 6-7 hours, mountain bike and downhill ski without wimping out!
Deb Twardowski

Three years ago, when my youngest left for college and I turned 50 years old, my husband and two children gave me a membership to Crossroads and 3 training sessions with Carla Bamford. I had been complaining about working out in our home gym because I was totally bored. I was really unsure of even how to work out because I had never really grown up in a gym setting.
I had spent 20 years raising my children and expanding my career as a nurse practitioner and now all of my "Mom" activities were non-existent. Within months of joining Crossroads I noticed a big increase in energy and a big decrease in my waist. I enlisted my friend, Nancy Benton, to join me in a Small Group Training session and we have motivated each other above and beyond. I lost 30 lbs and dropped from a size 10 to a size 4! I look forward to each work out with Carla and even my staff at work know to get me out on time now so I can get to the gym! Carla has taught me so well that I can even hit the gym at Crossroads and accomplish workouts on MY OWN! I look forward to continuing my training sessions with Nancy and Carla.!

Zachary Rosales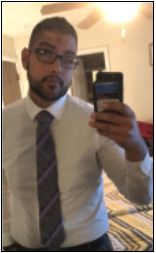 My name is Zachary Rosales. I grew up playing sports and I was an all state wrestler at Central High School in Grand Junction. I got into fitness after high school and unfortunately when I was 24 years old a virus latched onto my heart and gave me congestive heart failure (CHF). This caused me to put on over 100 pounds due to fluid build up . The fact that I couldn't breathe or do physical activities got my weight up to 311 pounds. I've had multiple surgeries, stayed months in the ICU and been placed on a heart transplant list. I've gone to cardio rehab and have kept pushing and even though I still have CHF I have gotten down to 200 pounds. After I finished cardio rehab, Crossroads Fitness had all of the same equipment as my rehab , so I was able to show up 5 days a week starting off by doing what I could until I was cleared to lift again. Even though cardio is a hard task for me, I'm able to use the pool for that part of my workouts. My advice for others is even though it's a slow process and the results may not come as fast as you want them, just show up one day at a time! Do what you can because before you know it you'll surpass the goals you set for yourself!
Becky Jones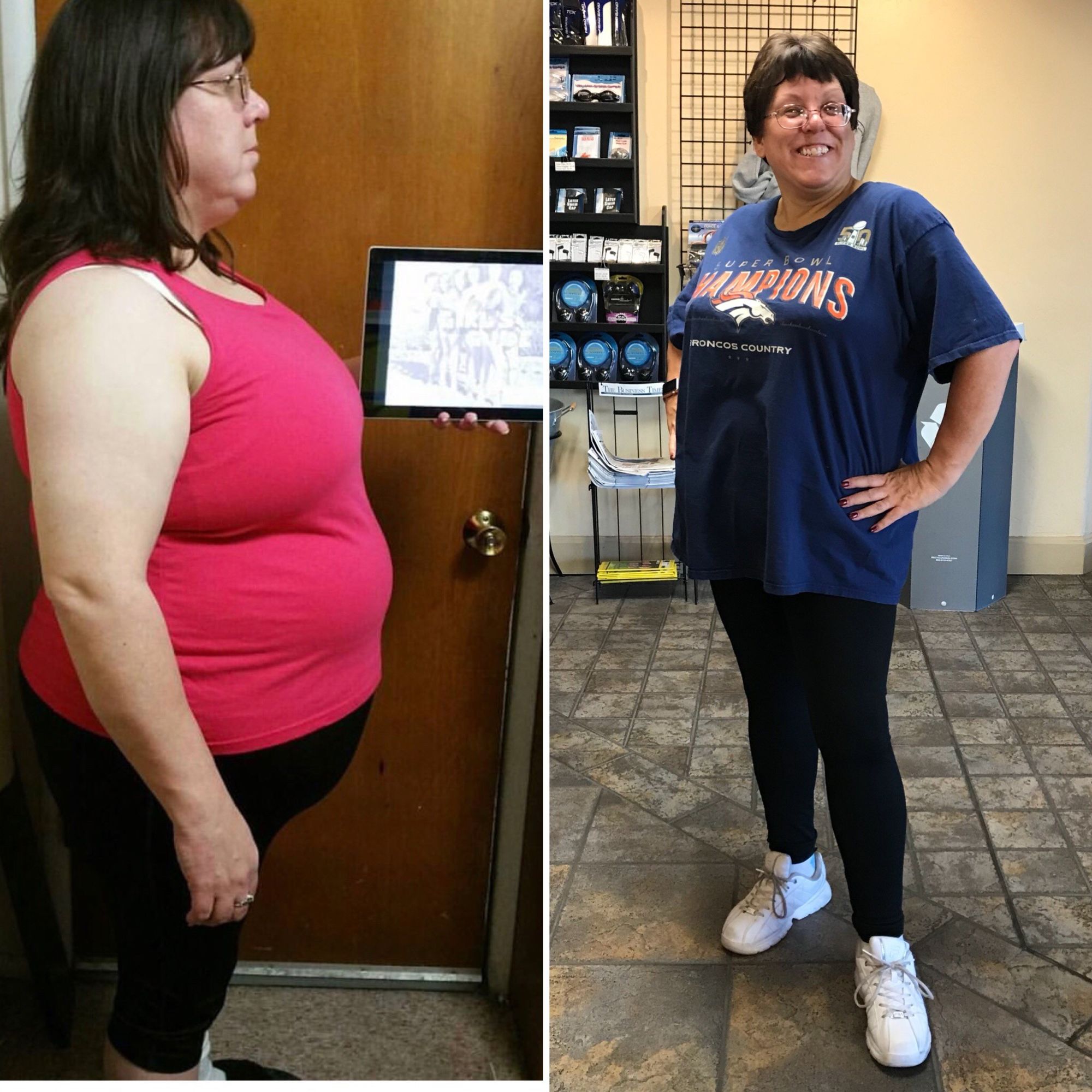 Hello,
Amy Bergen at the front desk encouraged me to send this photo to you of the progress I've made in the last two years thanks in part to Crossroads. The before picture was taken 2 months before I joined in 2016. There is 60lbs weight loss between it and the "after" picture. I've lost 50lbs this year, since June actually. I owe a LOT to my trainer Rose at Crossroads. She kicked my behind into gear! Becky Jones
From a member . . .
June 23rd, 2012

Dear Dale and Crossroads Fitness Center Staff,

As a long -time member of Crossroads Fitness Center, my family and I have always enjoyed your wonderful facility. The 2011 – 2012 year has given us an even greater appreciation.

We send our heartfelt thanks to all the staff for helping us through a difficult time. During a health challenge, Crossroads staff was an intricate part of our lives. Many times, I would visit Crossroads for a workout, sometimes twice a day! Your exceptional staff was not only helpful, kind and supportive, but non-obtrusive.

Crossroads became a second home. It was and is a place to maintain our physical strength and whole-health equilibrium. We are grateful for all your concern and we are looking forward to many years of enjoying the Crossroads Fitness Center family.

Sincerely,
Kathy, Pat and Sam Arbeiter