The non-impact environment of the water let's you build strength, burn calories and increase flexibility.
Excellent for beginners, those with an injury, or anyone wanting to add the benefits of cross training to their workout regimen.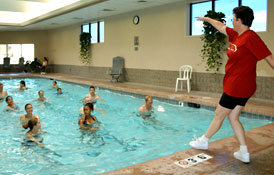 AQUATIC FITNESS FOR LIFE
A great class for beginners in water fitness or anyone needing a slower paced, yet complete, water workout. Enhance flexibility, strength, and energy while reducing stress on your joints. Great for beginners, older adults, post surgery, and pre- and post-natal women. Learn how to use the water to your advantage!

DEEP POWER HOUR
Intense deep water exercise using a floatation belt for
a non-impact workout. Included may be deep water running, cycling, triathlon, abs and toning. Join us in the pool and try this great new way to cross-train.

WATERWORKS
Instructor chooses what type of water class they want in Waterworks. Wet & Wild, Water Circuit, and Deep Power Hour are some of the formats used. A variety of water equipment may be used such as hand buoys, noodles, bands, steps, and flotation belts. Whatever the choice, Waterworks will be a challenging workout for all levels of fitness!

WET & WILD
This water class is designed to improve cardiovascular fitness and achieve muscle tone with minimal stress on joints. A 30-minute cardiovascular segment helps reduce body fat and increase cardiovascular fitness. Some timed moves may be used to build muscle strength and endurance during the cardiovascular segment. Hand buoys, noodles, bands, or Power 8 tubes may be used in the toning segment and/or cardiovascular workout.