Fitness bands: Get in step with technology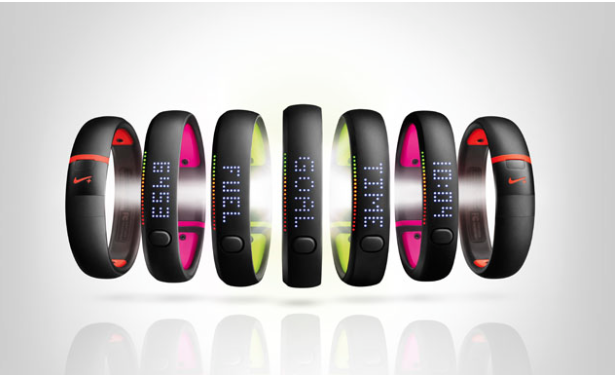 Fitness bands are the new fitness craze. Fitness bands measure not only steps, but also heart rate, calories burned and sleep quality. While different models offer different features, the one common trait is the ability to create awareness of our physical activity and inspire us to make healthy changes.
By learning what some of the top-selling fitness bands track, why that could be beneficial to you and how to get started, you could be inspired to sport one on your wrist.
Jawbone, Fitbit and Nike+ rank among the top sellers of fitness bands. Although similar in many ways, there are some differences to consider. All three bands are user friendly and easy to learn to use. They use wireless technology to send information to your electronic devices — phones, tablets and computers — and monitor steps and other activity. They're all water-resistant, but not waterproof. You may enter personal information — including weight, height, age and goals. Creating teams of other users is a benefit, too.
There are some significant differences to keep in mind, though. The Jawbone and Fitbit bands use the 10,000 steps to monitor, while the Nike+ band uses fuel points based on its own scale.
If monitoring sleep is important to you, the Jawbone and Fitbit bands both offer this feature. The Nike+ band doesn't monitor sleep.
Some reviewers indicate they like the light emitting diode display, time feature and activity progress Quick read more or view full article display of the Nike+ band. Jawbone wearers like the ability to calibrate it for accuracy as well as the inactivity alerts, nap mode and "today I will" daily motivational goals. The Fitbit was noted for its weight tracking and the ability to change the color of the band.
Keep in mind these products are continually upgraded with better support and more features. Being an informed consumer will help you choose a band that fits your needs.
We've all heard that walking 10,000 steps a day is the goal. Research shows this isn't a magic number, but a good indicator of daily activity. An inactive person takes about 3,000 steps or less a day. Five miles of walking is about 10,000 steps. Unless you have a very active job, you probably won't get that many steps in a day. To reach a goal of 10,000 steps, you'll have to exercise for 30 to 60 minutes, which is the minimum daily recommendation by health authorities. All in all, it's a simple way to measure movement.
Once you have selected your fitness band, you're ready to get started. Here are few ideas to help you be successful.
Establishing your baseline will help you realize how much activity you're getting right now. Just put on the band and ignore it, going about your normal routine for the first few days. Once your baseline is set, you can establish some goals. Start out with attainable goals. If your baseline is 3,000 steps a day, increase that by adding 500 steps a day for a week. You can follow your data on most of these devices to see how you're doing. The graphs can compare day to day and week to week, including time of day. Another important factor to consider when beginning your healthy challenge is to get teammates that will help hold you accountable and motivate you to help each other. Take the time to learn about the device. As with all technology, it might do more than you realize. Learn about all the features so you can enjoy the full benefit of the band.
Fitness bands offer another tool to help you stay fit and healthy. Any product that can increase awareness in movement and inspire healthy changes is worth giving a try. Not only are the bands fun, but you also could find yourself out walking the driveway at 10 p.m. to get in those extra steps.
Read Less